CORE TEAM:  1 Project manager,  1 UX/UI designer │ COLLABORATED WITH: Client
Adobe XD, Miro, Google forms
• Led the UX design process by interviewing users and creating the journey map.
• Established the service concept and content.
• Created the interface and visual design.
Connect the musical consensus of amateur DJs to activate the dance music scene. 
The clients' request was to elevate a simple music-sharing service to a dance music hub. 
Unlike the old service direction, which focuses on uploading mixed music, 
amateur DJs actively plan events and mobilize audiences. To expand their activities, we provide them with new services to support their DJ skills, human networks, and self-promotion.


- 99% churn rate of initial users within a month after the service was introduced.
- Remarkably low uploads and streams of DJ mix music.
- No non-sound-source-related content available.


We conducted surveys and interviews to understand amateur DJs' activities.
• Respondents: 30 people 
• Interviews: 6 people, 1 hour

The survey showed that the DJs made music mix less than once in six months to a year, less frequent than our expectations.

"I focus on individual promotions, event planning, and execution rather than music-making activities."
Name 
Age 
  Gender 
Employment
Howako              27              Female           Clothing sales staff
"Most of the audience participating in the event are acquaintances."
Name 
Age 
      Gender 
Employment
Shimomura          29               male               IT Company Marketer
We set up the persona based on in-depth interviews to understand the amateur DJs' essential needs. 
We also examined amateur DJs' activities through a journey map and identified pain and gain points.
Amateur DJs want to increase event appearances, audiences, and streaming to expose their music to many more people.

Amateur DJs want to interact with other DJs to plan events and exchange music information.

Amateur DJs want to improve mixed music production or DJ play skills for their self-satisfaction and audience, but struggle with a lack of time and knowledge.

Create wireframes to evaluate product structure and functionality, and perform initial testing.
A network that expands 
through musical empathy
Acquaintance-based amateur DJs need a wide human network to reach listeners.
​​​​​​​
We posted issues in the service at the front of the main page for users to collect and view postings with many likes from each menu. This new content invigorates stagnant services and inspires DJs to be more deeply involved in dance music.
​​​​​​​
Increase the spread of self-promotion
This provides a basic profile form to share easily, which increases the frequency of Internet exposure through hashtags and social media connections on the profile page.
The profile page's modular format allows users to freely organize profile content, so DJs can update their profile with interests besides music activities.
We designed the main page representing the service according to the client's circumstances.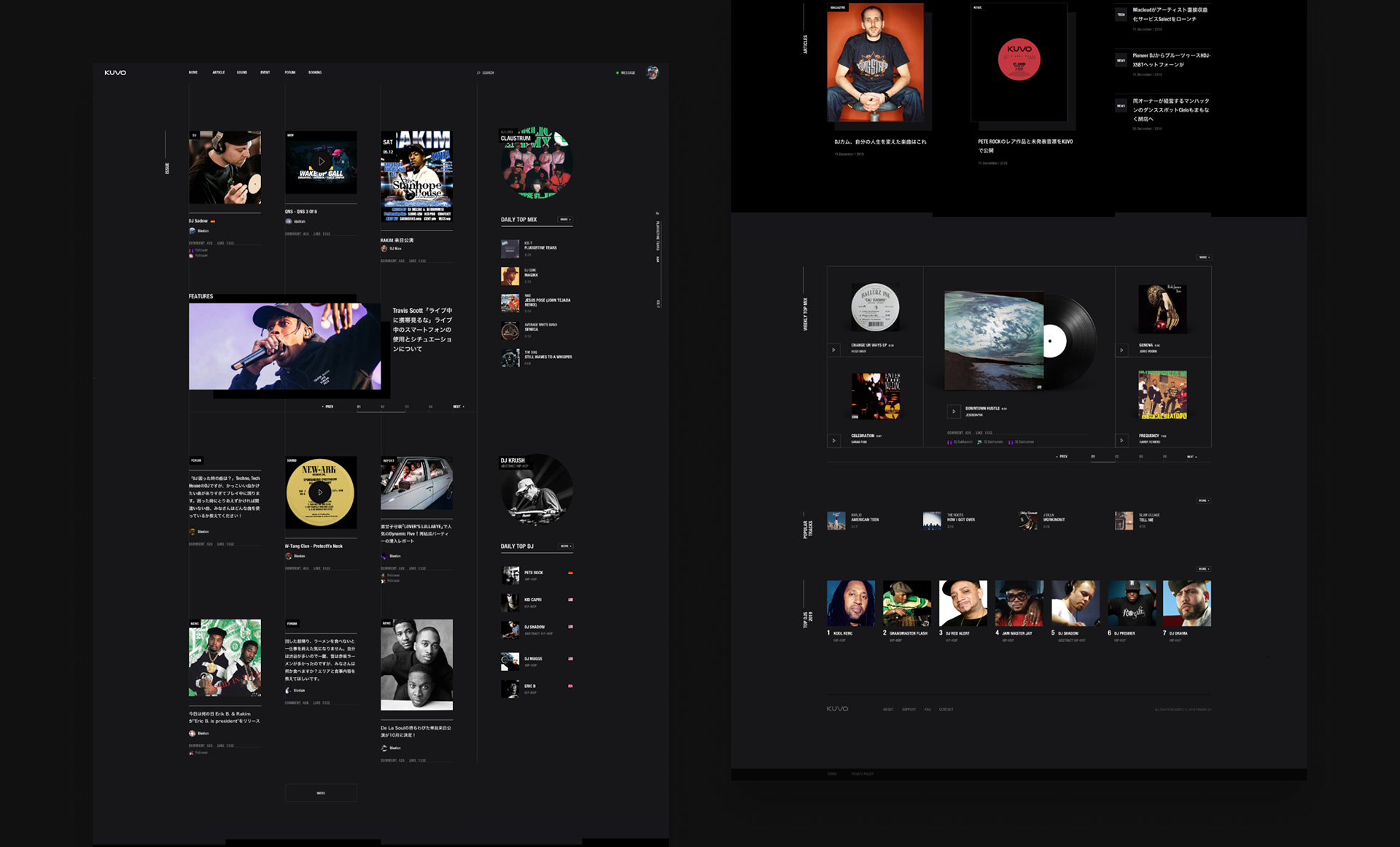 Representative images of DJ mixing devices and dance music are the starting points of the visual concept. 
We use a DJ mixing machine's geometric elements to present futuristic, digital, and technological impressions.